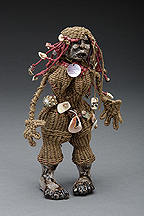 Pamela Zimmerman
Press:

---
Art & Art Deadlines Artist of the Year 2011! Thank you for your votes!

Designated North American Craftsman in the Fiber Arts/United States by the World Crafts Council International (WCCI,) an International non-profit, non-governmental organization with of the United Nations Educational, Scientific, and Cultural Organization (UNESCO.)



2009 NICHE awards finalist.
Pamela's finalist piece is titled "Catching the Pale, Pale Moon." Read the press release.

---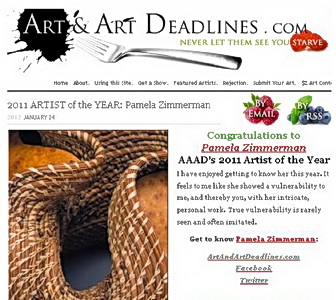 Online
Can or Cannot
Riding and Writing Oct. 2013
Art & Art Deadlines Artist of the Year 2011
Crafts Report Magazine April 2009
The Beaufort Observer Online, Local Artist Excels Nationally, December 6, 2008
A Signature member of ArtSync Magazine.
Midnight Coiler's Art and Opinion Wednesday, August 13, 2008
Midnight Coiler's Art and Opinion Tuesday, August 12, 2008

---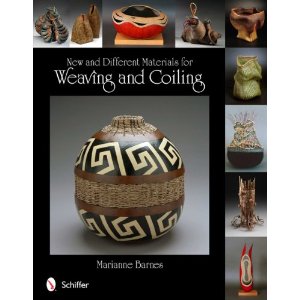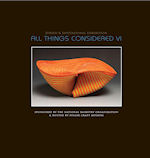 Hardcopy Publications

The Upcyclers U.S.A.: 21 Eco Folks Who Made It, by Julie Rawding
New and Different Materials for Weaving and Coiling by Marianne Barnes
All Things Considered VI, National Basketry Organization Exhibition Catalog
Coiled Designs for Gourd Art, by Catherine Devine, Shiffer Publishing
Weaving on Gourds, by Marianne Barnes
Hollingsworth Gallery 2009 Inaugural Annual Catalogue of Exhibitions, by Gena Brodie Robbins
Hollingsworth GallerySmall Works and Big-Uns, Catalogue of Exhibitions, by Gena Brodie Robbins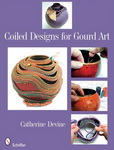 Shuttle, Spindle and Dyepot "HGA Award Recipients 2009," Volume XLI No. 2 Issue 162 Spring 2010
Shuttle, Spindle and Dyepot "Small Expressions 2009," Volume XL No. 4 Issue 160 Fall 2009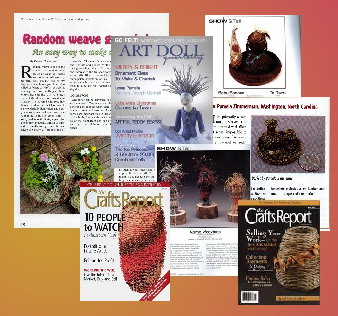 Arts Alive, Pamela Zimmerman: Setting Her Place in the World Market, June 2009
Shuttle, Spindle and Dyepot "Salsa Y Salsa", Winter 2009
Art Doll Quarterly, Winter 2008 Backwoods Magazine, Issue #114, November/December 2008, Pamela authored the article, "Random Weave Greenbrier."
All Things Considered IV, National Basketry Organization Exhibition Catalog
Raleigh News & Observer, August 2, 2008
Crafts Report Magazine April 2005, March 2006, March 2007
Art Doll Quarterly Spring 2007 ,Winter 2008
Shuttle, Spindle and Dyepot "Small Expressions 2007", Fall 2007
Coiled Designs for Gourd Art
by Catherine Devine, Shiffer Publishing



Curriculum Vitae